Detecto's new MobileCare medical carts offer innovative security and customized access restrictions to help curb narcotics theft

As opioid abuse and drug deaths continue to make headlines, it is more important than ever that the healthcare industry take aggressive steps to prevent drug diversion. Recent statistics from the Mental Health Services Administration and the American Nurses Association suggest that 10 percent of healthcare workers in the United States are abusing drugs. Drug thieves in the healthcare industry not only steal drugs for their own use, but they also may steal them for friends or sell them. Medical professionals have direct access to narcotics on a regular basis and opportunities are rife for drug diversion.

An investigation by the Mayo Clinic revealed that in a health care facility environment, vulnerability to diversion exists when a single individual, out of the view of others, is free to engage in drug procurement from central stores, drug preparation, drug administration to patients, and/or disposal of drug waste. Instances of discovered drug diversion included a patient's relative stealing fentanyl patches while assisting in bathing their relative, a sedation nurse using a secret pocket to hide syringes; and employees breaking into sharps waste containers to get to miniscule amounts of discarded opioids.

In cases of drug diversion, patients may suffer pain and discomfort as prescribed drugs are diluted with unsterile tap water, or replaced with an alternate drug to which they may be allergic. Patients are also at risk by being under the care of an addicted and potentially impaired health care worker, more concerned with obtaining opioids than patient care.

Drug-diverting healthcare workers also put employers at risk of civil liability for failure to prevent, recognize or address signs of drug diversion or of an impaired or addicted employee. Both the healthcare worker and the employer are vulnerable to civil litigation.

Healthcare providers must have thorough programs in place to detect and prevent diversion of controlled substances. Providers must also be prepared to react quickly to signs that drug diversion is happening. In one Pennsylvania hospital, patients complained about unbearable pain during surgery long before officials investigated and sent IV drug bags for lab analysis where only trace amounts of painkillers were found. The attending anesthesiologist, who had a history of drug addiction, later pled guilty to burglary, theft, assault and obtaining illegal drugs, and was sentenced to 10 to 23 years in prison.

Solutions to the drug diversion problem are multifaceted. An effective prevention and accountability program needs to be in place, and violators need to be held accountable to send a strong message that drug diversion will not be tolerated. Safety protocols need to be in place on all shifts and in every unit, especially in places with little supervision or on overnight shifts.

It is also important to closely look at drug access in places where medication is stored and administered directly to patients. The newest medical carts limit access to drawers with medication. State-of-the-art medical carts like DETECTO's new electronic MobileCare medical cart have sophisticated drawer tracking methods that log exactly who accesses restricted drawers on each cart.

DETECTO's electronic cart is unlocked and access is authorized through either an individual PIN entered on a touchscreen keypad, with a touchless RFID card badge scanner, or both for dual entry protection. When accessed, the cart is capable of unlocking specific drawers on the cart, depending on the individual's needs and security level. Access to basic supplies can be quickly given, while drawers containing controlled substances remain safely locked away. In addition, alarms can be set up to alert staff about drawers left open, so that an unattended medical cart isn't accessed by someone without authorization. Electronic cart alarms can issue an audible alert, as well as e-mail and text notifications to pre-assigned admin personnel.

The software's audit trail tracking allows supervisors to check the accountability of individual drawer inventory, and see who has had access to specific drawers. The software makes it easy to select which individual drawers users can access. Managers can print, download and export detailed history reports, and detailed auditing for employee tracking can be done to mitigate narcotics theft. If drugs go missing, managers can investigate and see who had access and when, making it possible to look for patterns and identify suspected drug thieves. Making medical staff aware of a modern medical cart's advanced software and access tracking system can also be a significant deterrent to theft.

Proprietary onboard and PC software for the carts has been developed by DETECTO and administrators can set up new users directly at the cart or within the included PC software. Individual users, carts, locations, and departments can all be easily updated via Wi-Fi connectivity. The electronic carts feature a color touchscreen with graphical diagrams that illustrate which drawers are locked, unlocked, and opened, and graphical menus offer easy navigation and controls.

If electronic security measures aren't needed, DETECTO's MobileCare medical cart is also available with a quick-release plunger with breakaway plastic tags and red/green flag that can be reset easily by biomed staff. This quick-release method of unlocking the medical cart is ideal in emergency situations when seconds count.

DETECTO's MobileCare medical carts are aluminum, made in the USA (of US and global components), and come in 10 standard colors, as well as unlimited pantone and RAL color options. The countertop is ABS thermoplastic with molded edges that is easily cleaned. Drawer heights are customizable, with sizes including 3 inches, 6 inches, 9 inches, and 12 inches. Multiple handrail configurations can be selected, as well as accessories including IV poles, sharps container holders, defibrillator shelves, cardiac boards, oxygen tank holders, bin organizers, catheter holders, waste bins, and many more.

For more information on DETECTO's new MobileCare medical carts, please visit www.detecto.com.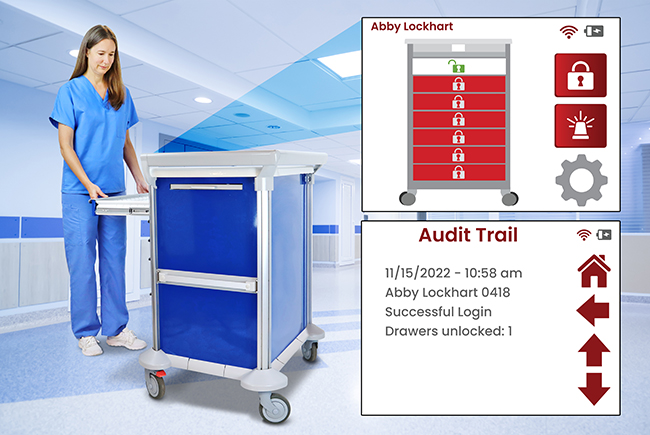 ​